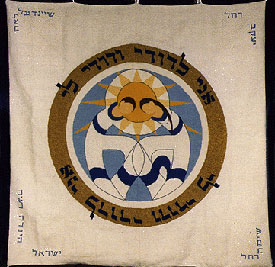 "I am My Beloved is My Beloved is Mine" Chupah
Dedicated at Congregation Neveh Shalom, May, 1986
Size: 6' x 6'
This Jewish wedding canopy commemorates the "Beloved is Mine" verse from Solomon's Song of Songs (6:3). The verse is inscribed twice within the golden ring that encircles the couple. The idea of doubling the statement emphasizes its importance to the nuptial couple beneath the canopy. The white of the clothing and background are the traditional color of purity, while the deep royal blue is reminiscent of the sky which resembles the colors of God's throne. The couple with arms joined and clothing blending together represent the joining of souls of a wedding couple. The arms surround a circle that is both the moon and the radiant sun. The original artwork was transferred to the canopy, laid out, and the yarns and appropriate needlepoint stitches were selected by Sara. JoEllen Miller of Portland, Oregon executed the needlepoint on a 10-mesh canvas with wool thread.