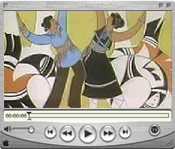 Movie about Sara's work: Dance: A Celebration of Life". Watch

Welcome to Harwin Studios, a website designed to stimulate your visual and spiritual needs with high quality artwork and Judaica created by Sara Harwin. From challah covers to chupahs, Harwin's ceremonial pieces can be used in both homes and synagogues and are perfect for those looking for personal ways to express their beliefs.

Recent additions to Harwin's collection include fabric constructions with a contemporary twist. Each unframed piece is created with ultrasuede and reflective silk, designed to create intrigue and catch the eye with its texture and sheen. Harwin's newest project, "Illuminated Letters: Threads of Connection," is an introspective look at the core concepts of Judaism as seen through an artistic lens.

Below are just a few examples of Harwin's work on the Illumniated Letters project. You can follow this amazing, multi-year project on the blog.